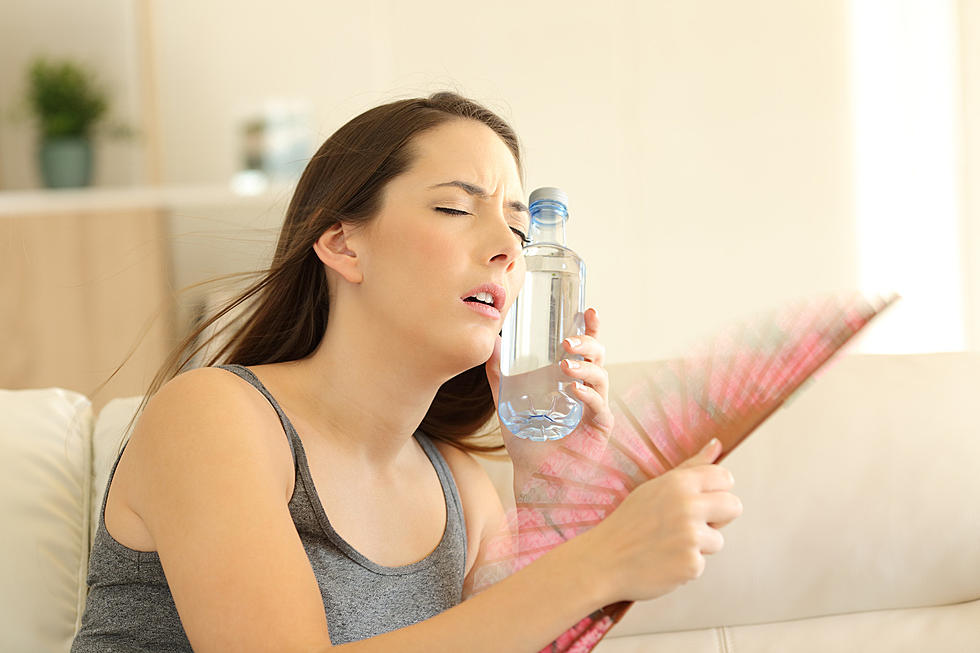 Hot Weather Like Today Can Lead to Heat Exhaustion or Heat Stroke
AntonioGuillem

We have a Heat advisory in effect for today, with temps in the upper 80's and high humidity it may even feel hotter than the upper 80's. So If you work outdoors make sure you keep hydrated and take a break if you can find some shade too. There are a couple of things that can happen to you if you get overheated the first being.
What happens to the body as a result of exposure to extreme heat?
People suffer heat-related illness when the body's temperature control system is overloaded. The body normally cools itself by sweating. But under some conditions, sweating just isn't enough. In such cases, a person's body temperature rises rapidly. Very high body temperatures may damage the brain or other vital organs. Several factors affect the body's ability to cool itself during extremely hot weather. When the humidity is high, sweat will not evaporate as quickly, preventing the body from releasing heat quickly. Other conditions that can limit the ability to regulate temperature include old age, youth (age 0-4), obesity, fever, dehydration, heart disease, mental illness, poor circulation, sunburn, and prescription drug use and alcohol use.
Those at greatest risk for heat-related illness include infants and children up to four years of age, people 65 years of age and older, people who are overweight, and people who are ill or on certain medications.
What is heat stroke?
Heat stroke is the most serious heat-related illness. It occurs when the body becomes unable to control its temperature: the body's temperature rises rapidly, the sweating mechanism fails, and the body is unable to cool down. Body temperature may rise to 106°F or higher within 10 to 15 minutes. Heat stroke can cause death or permanent disability if emergency treatment is not provided.
Here are the warning signs of a heat stroke?
Warning signs of heat stroke vary but may include the following:
An extremely high body temperature (above 103°F)
Red, hot, and dry skin (no sweating)
Rapid, strong pulse
Throbbing headache
Dizziness
Nausea
Confusion
Unconsciousness
What is heat exhaustion?
Heat exhaustion is a milder form of heat-related illness that can develop after several days of exposure to high temperatures and inadequate or unbalanced replacement of fluids. Those most prone to heat exhaustion are elderly people, those with high blood pressure, and those working or exercising in a hot environment.
What are the warning signs of heat exhaustion?
The warning signs of heat exhaustion include the following:
Heavy sweating
Paleness
Muscle cramps
Tiredness
Weakness
Dizziness
Headache
Nausea or vomiting
Fainting
The skin may be cool and moist. The pulse rate will be fast and weak, and breathing will be fast and shallow. If heat exhaustion is untreated, it may progress to heatstroke. See medical attention if symptoms worsen or last longer than one hour.
carbongallery id="60884e9cced1c152c86f5f0f" title="LOOK: 50 images of winning moments from sports history"]
The Best Horror Movie From Every Year
Counting down a century's worth of monsters, demons and things that go bump in the night.
The Best Horror Movie From Every Year
Counting down a century's worth of monsters, demons and things that go bump in the night.
LOOK: 50 images of winning moments from sports history
Sometimes images are the best way to honor the figures we've lost. When tragedy swiftly reminds us that sports are far from the most consequential thing in life, we can still look back on an athlete's winning moment that felt larger than life, remaining grateful for their sacrifice on the court and bringing joy to millions.
Read on to explore the full collection of 50 images Stacker compiled showcasing various iconic winning moments in sports history. Covering achievements from a multitude of sports, these images represent stunning personal achievements, team championships, and athletic perseverance.
KEEP READING: 15 Natural Ways to Improve Your Sleep