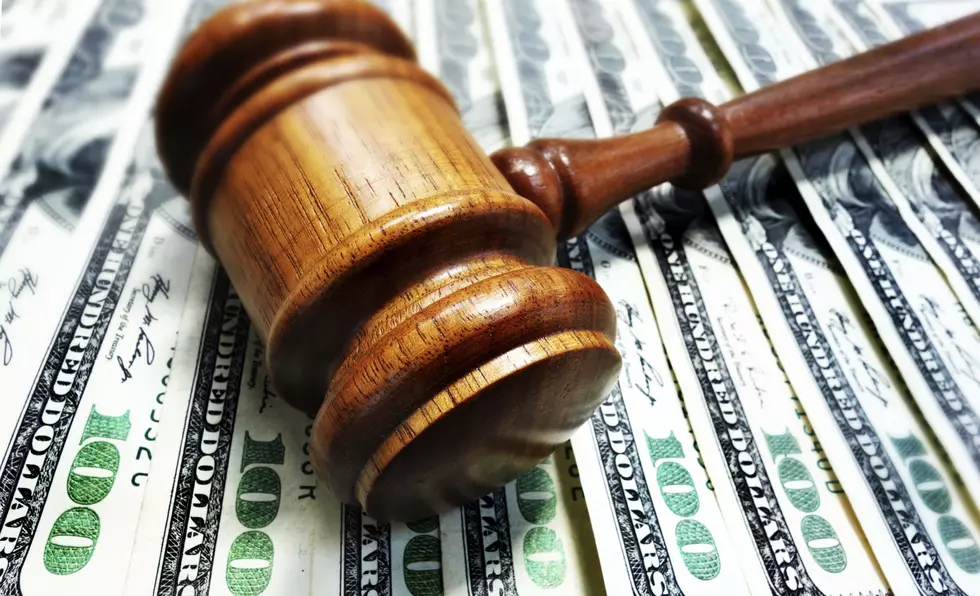 November 2018 Great Radio Auction: Big & Medium Ticket Items
zimmytws
The holiday season is around the corner and Whoopee FM is giving you the chance to stock up, and save money, on all of your gift giving ideas during the final Great Radio Auction of 2018.
The auction is set for Friday, Nov. 9 from 1 to 5 p.m. and Saturday, Nov. 10 beginning at 9 a.m. Nothing in the Great Radio Auction ever goes for full retail price, so here is your opportunity to get items, certificates and services at incredible discounts.
Check back is this page will continue to be updated.
*Please note that all certificates and gift cards have no cash value.*
Here are the larger ticket items for the upcoming Whoopee FM Great Radio Auction:
Lenox Fit, 99 Pittsfield Road, Lenox: One-Year Membership ($399 Value)
It's never too late to start a healthy and active lifestyle and that is exactly what Lenox Fit, Inc. is here to help you accomplish, offering the best of fitness and wellness in the Berkshires!   With this one-year membership you will have full use of the newly renovated facility, access to Life Fitness equipment, free weights, cardio machines as well as the latest fitness classes like spinning, yoga, kettle balls in more! As well as locker room sauna and shower access. Take the first step toward a year-round healthier lifestyle with this 1-year membership to Lenox Fit Inc. Membership begins one year from activation date.  No cash refunds.  
Aerus Electrolux, 383 North Street, Pittsfield: Lux Guardian Angel Air Purification System ($800 Value)
Do you wake up each morning with a stuffy nose?  Does your office seem to collect dust along with paperwork?  The Guardian Angel is a portable true HEPA air purifier with five (5) stages of filtration that removes 99.97% of contaminants from the air.  Perfect for areas where you spend most of your time.  Good for up to 1,000 square feet.  Weighs just 9.2 pounds.  Super quiet operation. 
Valley Roll-Off, 95 Marble Street, Lee: Three-Week, 15-Yard Dumpster Rental ($355 Value)
This includes local delivery for Lee, Lenox, Pittsfield, Stockbridge and Great Barrington. Valley Roll-Off offers prompt, professional and courteous service.  Their drivers will work with you to place your dumpster in the right spot on your property.  Visit valleyrolloff.com.  Additional Charges Apply for Following:  Mattresses, Tires, Freon, TV's, AC's, dehumidifiers, and anything over two (2) tons.  Usage of over three (3) weeks will be charged accordingly. 
Millennium Music DJ Service, P.O. Box 2952, Pittsfield: Photo Booth Rental ($675 Value)
The three (3) hour rental comes complete with an onsite attendant, costume accessories and props, as well as a scrapbook.  Two strips print out each time, one for your guest and other goes into the scrapbook with a place for your guests to write something to you.  This can be used for more than just weddings though.  Bar/Bat Mitzvah's, holiday parties, dance parties, Jack & Jill's - you name it!  Package also comes with a flash drive after the event with all photos.  Based upon availability.  New bookings only!
Morrison's Home Improvement, 25 Pittsfield Road, Lenox: 5 or 6-Foot Sliding Patio Door ($2,239 Value)
Comes complete with heat mirror power-Q 10 glass, the most energy efficient window glass made in the U.S.  Value includes Standard 5 or 6 foot white on white sliding patio door and screen door.  Removal of existing door and professional installation of new door in fram opening size provided included!  Installation includes removal & re-use of existing stops.  Certificate excludes permit fee, dry rot, re-framing, new trim and/or stops.  Larger units and alternative colors available at additional cost.
Morrison's Home Improvement, 25 Pittsfield Road, Lenox: Two (2) Double Hung "Quantum 2" Vinyl Windows ($1,590 value)
Comes with heat mirror glass. Windows generate up to 49% fuel savings with R-10 insulating glass & R-25 frames.  Value includes window units up to 101 United inches, and white vinyl only.  Optional Grids and full screens are at NO additional cost.  Value also includes professional installation – removal and replacement of window in frame opening size provided, with removal & re-use of existing stops.  Certificate excludes permit fee, dry rot, re-framing, new window trim and/or stops.  Larger units and alternative colors available at additional cost. No substitutions.
Anthony's Auto Electronics, 1478 East Street, Pittsfield: Basic Car Starter and Installation ($376 Value)
Control the climate inside your vehicle before you get in it with this basic car starter and installation from Anthony's Auto Electronics!  Certificate includes basic remote car starter and lock/unlock feature for most automatic vehicles, and can be recognized up to 1,500 feet away!  Basic installation is included and comes with a lifetime parts and labor guarantee!  Does not cover standard-engine or European vehicles, however both may be upgraded for an additional cost. Tax included. Installation appointment must be made in advance.
South Side Sales and Service, 546 Curran Highway, North Adams: Ariens Professional Snowblower (Model #938024) ($600 Value)
Beat the winter with an Ariens snowblower. Engineered to move loads of snow, this single-stage workhorse was built to handle the winters in the Berkshires without even breaking a sweat.  Features an Ariens AX208cc engine, effortless pull start sequence with an on/off button that guarantees a successful start in any weather condition.  Single station operation with forward speed makes quick work of patios, sidewalks, and driveways. 
Bousquet, 101 Dan Fox Drive, Pittsfield: 2018-2019 Adult Season Pass ($375 Value)
Valid 7 days a week with no restrictions. Enjoy a mountain of fun all winter long. Opens for the season on Dec. 18.
Thermo Expert, 360 Pecks Road, Pittsfield: Pair of Standard Double Hung National Vinyl Northwind II Windows ($1,200 Value)
Keep your home's temperature comfortable and your electric bill down with these quality windows from Thermo Expert, voted best in the Berkshires!   These windows are double hung, foam filled frame, low E glass, Argon gas between double pane glass, 100% virgin vinyl extrusion, fusion welded corners, custom manufactured to 1/8 inch, energy star rated and includes standard installation and delivery!  And best of all, they come from the Experts at Thermo Expert!  Thermo expert only hires AMMA certified installers, so you can trust them in your home.  Removal of old windows and standard installation of new windows included.  Does not include interior/exterior trim or additional interior finish work.  
Dresser Hull Lumber & Building Supplies, 60 Railroad Street, Lee: Makita XT405 4-Piece Cordless Combo Kit ($468 Value)
A Range of Best in Class Cordless Solutions, Makita's XT405 includes a ½" hammer driver-drill with 480 in. lbs. of Max Torque, a powerful impact driver that weighs only 3.3 pounds, a 6-1/2" circular saw that will cut 2X material at 45°, a rechargeable flashlight with Xenon bulb, two batteries, 18v lithium-ion rapid optimum charger and convenient carrier case.  Built for a variety of applications, delivering a wide range of cordless solutions for drilling, driving, fastening, and cutting. It's ideal for pro trades including HVAC, plumbing, electrical, remodeling, woodworking, and any pro contractor who requires a best-in-class engineered cordless combo kit.  Makita 18V Lithium-Ion batteries have the fastest charge times in their categories, so they spend more time working and less time sitting on the charger. Tax included.
Berkshire Bathworks, 630 Outlook Avenue, Cheshire: Acrylic Tub Liner and Acrylic Wall System ($3,000 Value)
Transform your bathroom in one day! This certificate is valid for a Acrylic Tub liner with wall system, Additional features are available for additional cost. Use the $3,000 to upgrade to other options. Including Shower door, handicap accessible, this is a beautiful high glossy acrylic, that will resist mold, mildew, with a lifetime warranty against scratches, chips, stains. Your choice of color/tiles. Call Jim Witherell to schedule your bath transformation  
Pittsfield Lawn & Tractor, 1548 W. Housatonic Street, Pittsfield: Generac GP2200i Generator ($743 Value)
From weekends in the woods to outdoor cookouts and get-togethers, the GP2200i provides the stable power you need without disturbing neighbors or surrounding wildlife. Using TruePower Technology, it produces the clean power required by a variety of sensitive electronics, tools and appliances. Compact and fully-enclosed, its lightweight design makes transportation easy, and its Economy mode feature also reduces fuel consumption rates and noise emissions to operate quietly for extended periods of time. Whether you're tailgating for the big game or simply want to enhance your campsite experience without disrupting the environment around you, Generac's GP2200i inverter generator is right for you. The parallel capability allows you to connect two units together to power your RV air conditioner, lights, cell phone (via USB port) and other portable appliances at the same time. Tax Included.
Berkshire Family YMCA, 292 North Street, Pittsfield: One-Year Family Membership ($804 Value)
Two adults and unlimited children in your household can benefit with a complete family membership to the YMCA!  Membership includes unlimited use of pool during lap & family/youth swims, racquetball & volleyball court time, gymnasium during open court time, free weights, life fitness equipment, cycles, treadmills, co-ed adult steam room, women's & men's adult sauna and locker rooms.  Several programs offered at no charge with membership and camp discounts apply.  Valid for Pittsfield or North Adams locations.  Valid for 12 months from activation date.
Healthy Image/CoolSculpting, 616 Main Street, Williamstown: $750 Certificate Towards CoolSculting Sessions
CoolSculpting is a revolutionary body sculpting treatment that reduces the volume of body fat cells without needles or surgery. It is a non-invasive procedure that's great for problem areas such as the neck and chin, abdomen, thighs, back and upper arms and is FDA approved, as well as 100-percent safe. Let Healthy Image put together a customized treatment package for you to ensure your CoolSculpting fat removal plan is targeted and affordable.