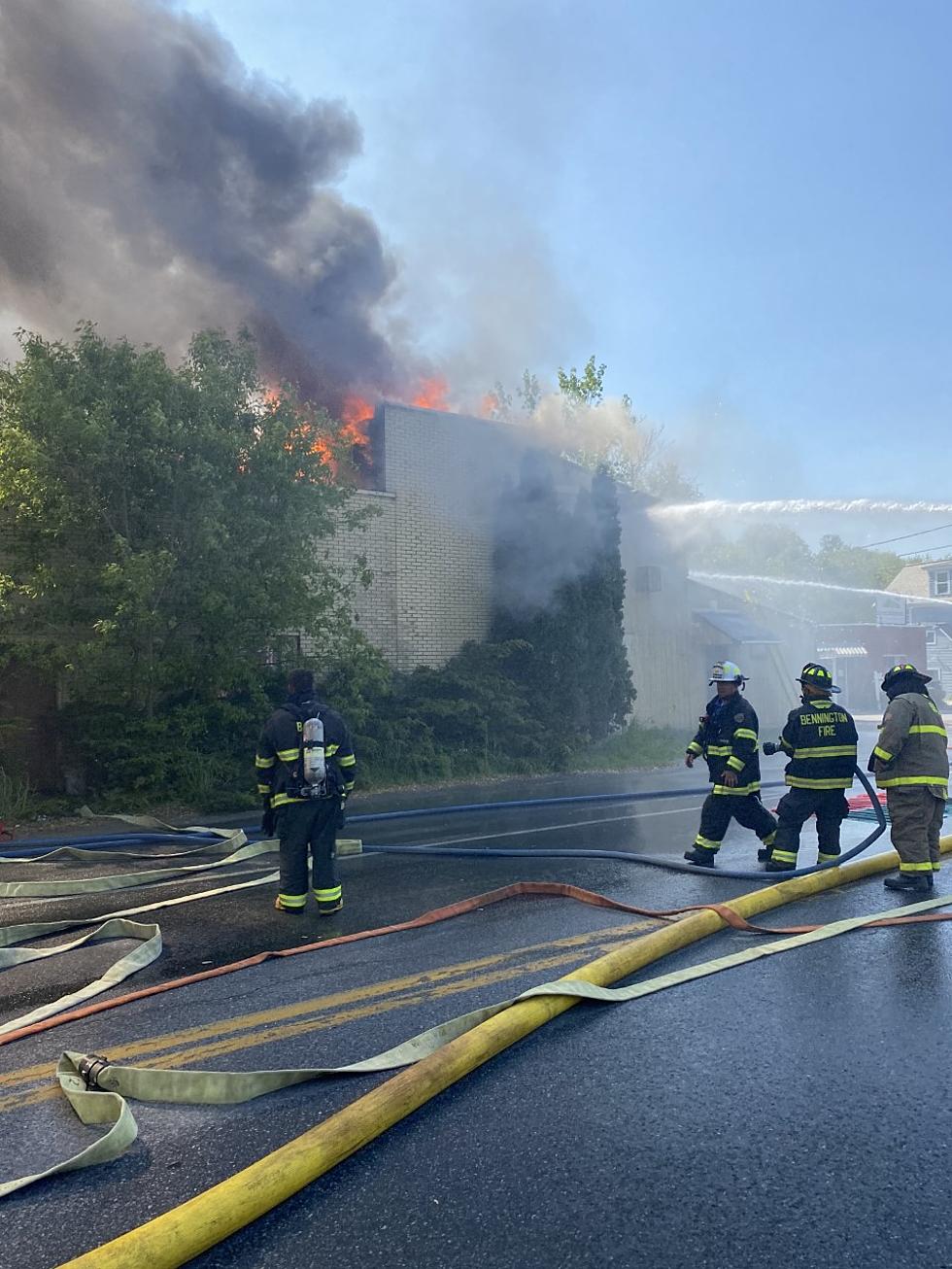 Officials Attributing Fire At CTC Film Due To Direct Human Involvement
Courtesy Of The Bennington Police Dept
Here is the latest on the investigation into the fire at the abandoned CTC Film.
On Thursday, May 20, 2021, Vermont State Police Fire Investigation Unit responded to the scene of the fire that occurred at 254 Benmont Avenue at the location of the former CTC Film Developing business on May 20, 2021.
This structure was quickly upgraded to a four-alarm fire, requesting mutual aid from; Bennington Rural Fire Department, North Bennington Fire Department, North Hoosick Fire Department, Hoosick Falls Fire Department, and Pownal Fire Department. North Pownal Fire Department, Pownal Valley Fire Department, and Shaftsbury Fire Department were on standby to assist with other fire calls.
Detectives from the Bennington Police Department's Bureau of Criminal Investigations also arrived on the scene.
It was found that the source of the fire was on the northwest corner of the building, which started on the outside of the building, then expanded into the structure. The direct cause of the fire is undetermined but can be attributed to direct human involvement in starting the fire, intentionally or not. This fire is still under investigation and no further information is available at this time.
If you have any information regarding this fire, please contact Bennington Police Detective Sergeant Jason Burnham at 802-442-1030 or submit information through our website at WWW.BenningtonPolice.com
You can also provide information regarding a suspicious fire by using the Vermont Arson Tip Award Program (VATAP). You can receive up to $5000.00 for information that helps detect or prevent an arson fire, bomb threat, or explosion. Call 1-800-32-ARSON or 1-800-322-7766.

LOOK: Route 66's quirkiest and most wonderful attractions state by state
Stacker
compiled a list of 50 attractions--state by state--to see along the drive, drawing on information from historic sites, news stories,
Roadside America
, and the National Park Service. Keep reading to discover where travelers can get their kicks on Route 66.
LOOK: What are the odds that these 50 totally random events will happen to you?
Stacker
took the guesswork out of 50 random events to determine just how likely they are to actually happen. They sourced their information from government statistics, scientific articles, and other primary documents. Keep reading to find out why expectant parents shouldn't count on due dates -- and why you should be more worried about dying on your birthday than living to 100 years old.
50 Famous Brands That No Longer Exist