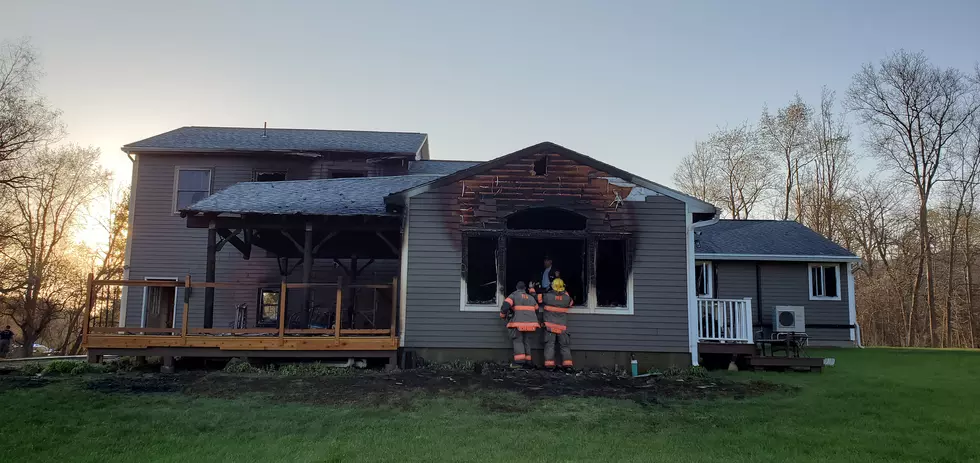 Barker Road House Fire Causes 200 Thousand In Damages
1100 Barker Rd PFD

A Major house fire tore through a house on Barker Road early Saturday morning. Fire Station Engines 1, 5, 6, Truck 2 and Car 2 responded for a reported building fire at 110 Barker Rd in Pittsfield, reported by the alarm company and a 2nd cell call from a passerby confirming active fire. Engine1, under the direction of Lt Jacob Brown, reported heavy fire from the rear upon arrival and all occupants safely out of the house.
With this update, Car 2 requested a 2nd alarm while en route, bringing engines  Engine 3 and Enginev6 to the scene. Engine1 began a fire attack from the rear to knock a bulk of the fire down while Engine 6 established a water supply. Truck 2 set up for roof ops if needed and Engine 5 began a fire attack through the garage, Engine 3 assisted with an attack from the rear. Engine 6 was assigned as RIT (FF rescue team) and Engine 2 assisted with a fire attack on the first floor.
Tanker 2 completed a secondary search of the building. engines Car 2 requested 3 mutual aid tankers from the newly developed Tanker Taskforce (Richmond, Lee, and Sheffield) to the scene as we were on the far end of the hydrant system, ultimately they were not required. The fire was brought under control within an hour and crews remained on scene for several hours overhauling and assisting with Fire Investigation. There was only a minor shoulder injury to one firefighter on the scene, that did not require treatment
Pittsfield Fired Department called in members manned HQ with Lenox Engine mutual aid. County ambulance and PPD assisted at the scene.
The Red Cross offered assistance to the homeowners. There was major fire, heat, and smoke damage throughout the first and second floor of the home put the home at a loss of Approximately $200k+
PFD Fire Investigation unit is still working to determine the cause of the fire.
LOOK: The most famous actress born the same year as you
Many of the actresses in this story not only made a name for themselves through their collection of iconic performances, but also through the selfless, philanthropic nature with which many of them approached their stardom. In an age of flipping the script on societal norms, many of these actresses are using their voices and platforms to be advocates for those who are otherwise unheard.
LOOK: The Most Famous Actor Born Every Year