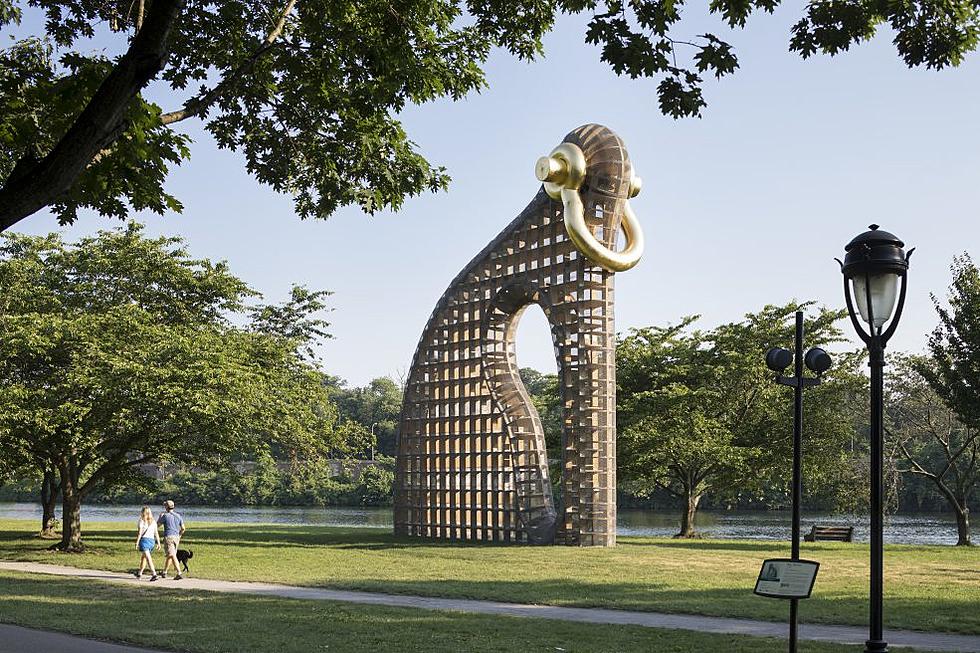 Big Bling Is Going Up In North Adams This Fall (Video)
AssociationforPublic Art.org
The Public Arts Commission in North Adams got a rundown on the "Big Bling" that's going to be sited at the so-called "Leu lot" this fall.
IBerkshires.com reports that while the commissioners were supportive of the efforts being made by Massachusetts Museum of Contemporary Arts in developing the empty lot into a park to entice its visitors to the downtown, they acknowledged they had no control over the 40-foot by 40-foot installation that will be facing Main Street.
Mass MoCA's two new deputy directors, Rees and Moore, presented the plans for the lot, also called the Mohawk Plaza, that was approved at last week's Planning Board.

Association for Public Art/ Installation of Martin Puryear's "Big Bling" sculpture in Philadelphia
In response to questions about the 40-foot sculpture's integrity, Rees said the engineer who installed the work in both New York City and Philadelphia is also doing it here and that artist Martin Puryear has checked out his work that's been stored behind Big Y for a couple of years.
Waterman Excavating is preparing the site for demolition and the plan is to have the work done before the snow falls. However, the plantings won't be done until spring,