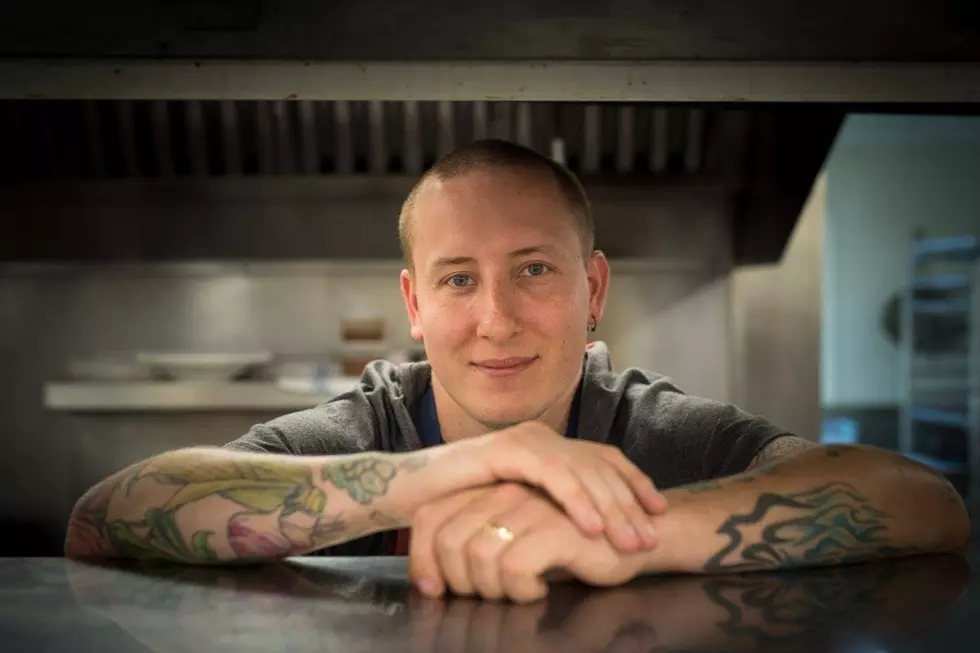 Show Your Support Vote For Local Chef Nick Moulton For "Favorite Chef"
Photo Courtesy of Chef Nick Moulton Mezze
Chef/Co-Owner at Mezze Bistro+Bar Nick Moulton of North Adams Is in the running for "Favorite Chef", I had the opportunity of Meeting Nick and his wonderful family at the Chili Cook-off one year in North Adams. He is a family man and community-driven. On the Favorite Chef site, Nick says why he is doing this.,
To set an example for my children and the talented people in crazy industry. We live once make sure to work hard, take risks and eat well.
How Long have you been cooking?
I have been working in restaurants for 20 years. I found my passion for food and decided to pursue it professionally 14 years ago before enrolling in culinary school. My cooking is a direct reflection of who I am and I love bringing people together and showing them that I care about them through food. #veggieking
What is your favorite signature dish?
My food is inspired by global influences, seasonal produce and our hardworking farmers, growers and makers.There are too many reoccurring favorite dishes throughout the year to choose one! Warm farmed and foraged spring vegetables with soft boiled farm egg and banyuls vinegar, BMB sourdough toast with heirloom tomatoes, Farmers cheese and green olive salsa verde,Spanish octopus with winter squash hummus, Merguez sausage and Gammelgarden Yogurt
What will you do if you win the $50,000?
I will make a donation to a local family in need and invest it into my 3 children's future.
Chefs from around the globe are invited to compete in an exclusive online competition to be named the world's Favorite Chef, receive $50,000, and be featured in a two-page advertising spread in Bon Appétit announcing the winner.
Favorite Chef is also going the extra mile, It is benefitting Feeding America. The competition will be donating a portion of the proceeds to Feeding America®, the nation's largest organization dedicated to fighting domestic hunger through a nationwide network of food banks.
For more than 40 years, Feeding America has provided nourishing food to people who are facing food insecurity while actively working to end the cycle of poverty and hunger. Learn more at https://www.feedingamerica.org.
Currently, Nick is in third place, show your support and let's see if we can get him to number one. Click on the link every vote helps!
A lot of people got to know nick as he appeared and won twice on "Guy's Grocery Games" Back in 2019 Wednesday, April 3, viewers tuned in to see chef Moulton of Mezze Bistro + Bar in Williamstown crowned the winner of the "Budget Bonanza" episode of Food Network`s "Guy's Grocery Games," making him a two-time champion of the program.

KEEP READING: 3-ingredient recipes you can make right now