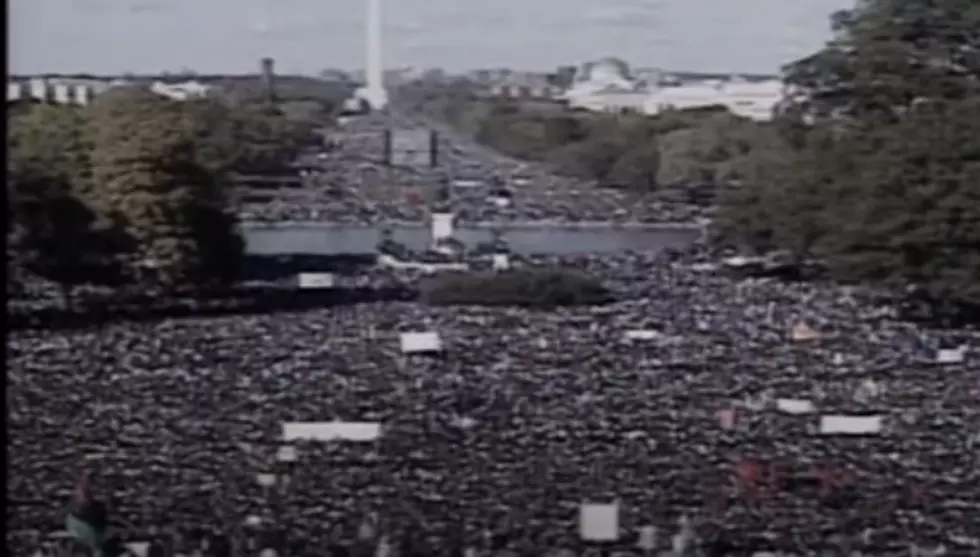 Million-Man March To Be Held Sunday
AP/Youtube
A "Million Man March," inspired by Louis Farrakhan's inaugural action in the 1990s, is taking place in Pittsfield on Sunday.   The idea for this march came from some young adults.
Alex Leonard organized the protest also making this happen was Lavante Wiggins, 26, of Pittsfield, and Warren Dews III, 16, of Hinsdale. The group thought a lot about  how they could work to achieve racial equity in the Berkshires, and decided to hold a "Million Man March,"
The Berkshire Eagle reports that the march will begin at 2pm Sunday in Durant Park on John Street and end at Park Square. A handful of speakers will address demonstrators at Park Square to discuss how changes can be made in local schools and police departments.
Some of the history of the Million Man March from Encylopedia Britannica
Million Man March, a political demonstration in Washington, D.C., on Oct. 16, 1995, to promote African American unity and family values. Estimates of the number of marchers, most of whom were African American men, ranged from 400,000 to nearly 1.1 million, ranking it among the largest gatherings of its kind in American history.
The event was organized by Louis Farrakhan, the often controversial leader of the Nation of Islam, and directed by Benjamin F. Chavis, Jr., the former executive director of the National Association for the Advancement of Colored People, to bring about a spiritual renewal that would instill a sense of personal responsibility in African American men for improving the condition of African Americans.
Among other prominent African Americans who supported and spoke at the event were Jesse Jackson, Rosa Parks, Cornel West, and Maya Angelou, along with Marion Barry and Kurt Schmoke, then the mayors of Washington, D.C., and Baltimore, Md., respectively. Schmoke told the crowd
Let our choices be for life, for protecting our women, our children, keeping our brothers free of drugs, free of crime.
They had assembled on the Mall. It was reported that in response to the march some 1.7 million African American men registered to vote.

NBCUniversal Archives/youtube
A number of African American leaders did not support the march, including Mary Frances Berry, chairman of the U.S. Commission on Civil Rights, and Rep. John Lewis, the latter of whom saw Farrakhan's message as an effort to "resegregate America."